Ways to obtain a vital record:
The Virginia Department of Health, Office of Vital Records walk-in customer service lobby at 2001 Maywill St, Richmond, VA 23230 will be closed, effective March 18, due to COVID-19 public health precautions. The Office of Vital Records does remain open to process customer mail-in applications and answer customer telephone inquiries.
Due to the impacts of COVID-19, our processing times are longer than normal.
804-662-6200
2020 Saturday and State Holiday Closures
January 1 – New Year's Day
May 25 – Memorial Day
November 25 – Close at Noon
January 17 – Lee-Jackson Day
July 3 – Independence Day
November 26 - Thanksgiving
January 18 – Saturday
July 4 - Saturday
November 27 – Additional Holiday Time
January 20 – Martin Luther King, Jr. Day
September 7 – Labor Day
December 24 – Additional Holiday Time
February 17 – George Washington Day
October 12 – Columbus Day
December 25 – Christmas
May 23 – Saturday
November 11 – Veterans Day
December 26 - Saturday
Announcing Director of the Office of Vital Records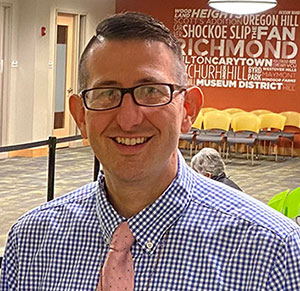 Please join me in congratulating Seth Austin in his appointment to the role of Director, Office of Vital Records, effective February 25, 2020. The Director works collaboratively with the State Registrar's Office.
In addition to his role as the Division Director for General Services within VDH's Office of Procurement and General Services, Seth has been serving in the role of Acting Director for the Office of Vital Records since January 2020.
Seth has been with VDH since 2016.  Prior to joining VDH, Seth was with Chesterfield County Public Schools for 11 years and also served in the United States Army as a Signals Intelligence Analyst, including a 13-month deployment to Iraq.
In my experience working with Seth, he has always demonstrated a deep commitment to customer service.  He has identified agencywide process efficiencies and implemented innovative solutions.
I look forward to working with Seth in his new role as we work towards modernization of the Office of Vital Records.
Congratulations Seth and all the very best!
Mona Bector
Deputy Commissioner of Administration
**NOTICE REGARDING REAL ID**
Effective October 1, 2021, there will be a new federal law (REAL ID Act) regarding driver licenses that may affect many individuals. Vital Records encourages customers to review the requirements to obtain a Real ID driver's license. The requirements may include obtaining a copy of a birth and/or marriage certificate and possibly amending a record for accuracy. Checking the requirements with your local Department of Motor Vehicles (DMV) may help you plan and minimize potential delays to obtaining required documentation.
For more information regarding the requirements for Virginia's REAL ID, please visit the DMV Website.
Birth records are public information 100 years after the date of the event; death, marriage, and divorce records, 25 years after the event. Vital Records are available to immediate family members only- mother, father, husband, wife, child, brother, sister and grandparents with valid ID. Birth records can be issued to the legal guardian with proof of custody papers. Aunts, uncles, cousins, in-laws, etc. cannot obtain a Vital Record.
Virginia birth and death records from 1912 to the present, divorce records since 1918 and marriage records since 1936 are now available in an index form.
Click here
to access indexed information on open records.  In Virginia, death, marriage and divorce data become "public" information 25 years after the event; birth data are "public" after 100 years.
Mailing Address
VDH, Office of Vital Records
P.O. Box 1000
Richmond, Virginia
23218-1000
General Information Number: 804-662-6200
Any person requesting a Vital Record MUST PROVIDE A LEGIBLE PHOTOCOPY OF THEIR IDENTIFICATION (see ID Requirements).