Breast and Cervical Cancer Program Services: Every Woman's Life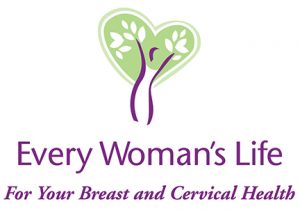 The Every Woman's Life Program provides free screening for breast and cervical cancer for under-served women who are low-income and have no insurance or are under-insured.
The message of early detection for breast and cervical cancer saves lives. In Virginia, the Every Woman's Life Program is a community-based cancer control effort that provides screening for women aged 40-64. These women receive a free clinical breast exam, pelvic exam and Pap test, a mammogram, and education regarding breast and cervical health. If a woman is diagnosed with breast or cervical cancer, we also help them to access treatment. This program encourages women to be a friend to themselves as well as to others by passing along the important message of early detection. The Every Woman's Life Program makes a real difference to real people.
You can obtain information regarding the Every Woman's Life Program by calling the Fredericksburg Health Department at 540-899-4142. The Health Department hours are from 8:00 am to 4:30 pm Monday through Friday. Every Woman's Life Clinic hours are by appointment only and held on the second and fourth Monday of each month.
Family Planning
Each district health department clinic offers services to women interested in preconceptual planning or a method of birth control. Program offers complete gynecological services, including lab work, pelvic examination, pap smear and breast examination. Selected birth control methods are also provided.
Pregnancy Testing
Each district health department offers pregnancy testing. No appointment is needed, and some fees may apply.