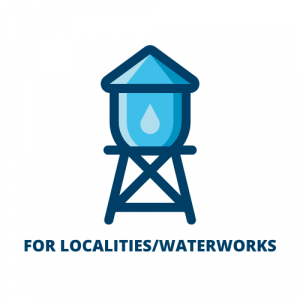 The Lead Elimination Assistance Program (LEAP) works closely with several localities and waterworks across Virginia to educate homeowners on the dangers of lead in drinking water. LEAP also offers grant funding to localities and waterworks to create and maintain Lead Service Line Replacement (LSLR) Programs. Systems who are eligible and interested in receiving grant funds may submit an application directly to LEAP. Please view our LEAP Information & Application and Frequently Asked Questions (FAQs) below for more information.
LEAP Information and Application
In an effort to accelerate the removal of lead in drinking water, the DWSRF Program has made funding available for the complete removal of the public and/or private portions of lead service lines (LSLs). In conjunction with other available funds, this program intends to provide up to $5,000 as grant funds (of which up to $500 may be eligible as an admin fee) for each service line replaced on the homeowner's side of the meter. The LSL includes pipe entry into the structure (up to shut off valve) but excludes the premise plumbing.
New for FY23: Systems will now be able to apply for funding towards building an LSL Inventory. Up to $250,000 per application cycle will be available. For more detailed information, please view our LEAP flyer below: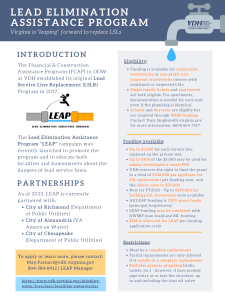 The Lead Elimination Assistance Program (LEAP) Application and LEAP Application Instructions are available to download below. Note: If the scope of your potential project will include other construction work in addition to LSL work, you will be required to submit a separate Construction Funds Application in addition to the LEAP Application.
Frequently Asked Questions - for Localities and Waterworks
Click on each bar below to expand and view the answers to frequently asked questions.
If you have any further questions, please feel free to contact May.Fornari@vdh.virginia.gov who oversees the Lead Elimination Assistance Program (LEAP) for ODW.