The Division of Disease Prevention works with health professionals directly and through partner-affiliated agencies.  This page contains resources for healthcare workers organized by topic.  Other information can be found throughout our site that may not be specific to providers, such as data, general resources and publications, etc.  If you have questions on a topic or cannot find information that you need, please use the contact us page to reach a staff person in our office.
General Clinical Resources
Transgender Health Risk Assessment: A Clinician's Guide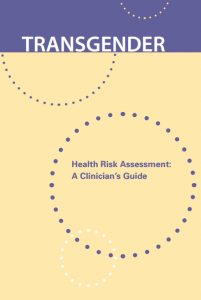 The Guide has been available since August of 2006, mainly through distribution at relevant events, service providers' offices, and by ordering through the VDH Disease Prevention Hotline.  It contains the following sections: Why Focus on Transgender Health?, Psychosocial Issues, General Questions to Assess Health Issues, Assessing Sexual Risks and Other HIV Risks, a brief glossary of terms, and Resources. A PDF of the brochure can be viewed or downloaded by clicking on the image to the left.
National Organizations
National Viral Hepatitis Resources
Last Updated: April 2, 2021.