About Office of New Americans-Refugee Services
Our Office of New Americans-Refugee Services exists to address health issues that may influence successful resettlement, identify and intervene on diseases and conditions of public health concern, follow up on medical issues identified overseas, and refer to local medical providers for follow-up and linkage to primary care. The Henrico County Health Department (HCHD) conducts health screenings for both Henrico AND Richmond City newcomer clients. We also assist newcomers with filling out the USCIS I-693 medical form for Permanent Resident (green card) applications.
Newcomer Health Screenings
The health status of new arrivals is assessed through the initial health screening. This screening is often the first encounter new arrivals have with the US healthcare system.  It provides the opportunity for early identification of communicable diseases and other health conditions that must be addressed to ensure successful resettlement.
Eligible Populations for NHP Health Screenings:
Parolee: In response to the rapid evacuation and resettlement of Afghans, Congress authorized that, effective Oct 1, 2021, Afghan citizens and nationals paroled into the U.S. July 31, 2021 through September 30, 2022 and their spouses and children are eligible for mainstream resettlement assistance and other benefits available to refugees. In addition, there is another new immigration category eligible for refugee services: Afghan Special Immigrant Conditional Permanent Residents (SI/CPR)

Refugee: Any person who is outside his or her country of origin because of a well-founded fear of persecution due to race, religion, nationality, political opinion, or membership in a social group. Eligible participants hold the legal immigration status of a refugee, which is granted prior to their arrival in the U.S.

Asylee: Any person who, after arrival in the U.S., applies for asylum and demonstrates that he or she qualifies under the U. S. refugee definition. Once granted asylum an asylee is eligible for all services and support available to refugees, including refugee medical screenings. Asylees may petition for immediate family members (spouse or unmarried child and under 21 years) who are outside of the U.S. to join them in the U.S. Approved family members are granted derivative asylee status (also known as "Follow to Join") and are eligible for refugee services upon arrival in the U.S.

Special Immigrant Visa holders (SIVs) from Iraq and Afghanistan: Any individual granted SIV status under Section 8120 of Public Law No. 111-118 of the Department of Defense Appropriations Act of 2010.

Cuban/Haitian Entrant: Any individual from Cuba or Haiti who has been admitted or paroled into the U.S. under P.L 96-422 or obtains that immigration status after arrival.

Amerasians: Individuals of Asian and American descent, primarily children fathered by American service members and born between 1/1/1962 and 1/1/1976.

Trafficking Victim (Victim of Severe Form of Trafficking in persons): An individual who is subjected to (1) Sex Trafficking, which is recruitment, harboring, transportation, provision, or obtaining of a person for the purpose of a commercial sex act [any sex act, on account of which anything of value is given to or received by a person], in which a commercial sex act is induced by force, fraud, or coercion, or in which the person forced to perform such an act is under the age of 18 years; or (2) Labor Trafficking, which is the recruitment, harboring, transportation, provision, or obtaining of a person for labor or services, through the use of force, fraud or coercion for the purpose of subjection to involuntary servitude, peonage, debt bondage or slavery. Victims of trafficking are eligible for ORR benefits and services and other federal benefits, provided they have been certified as a victim of trafficking by ORR.
Fees: There is no charge for newcomer Health Screenings. Required immunizations are free for the first year.
To schedule a Health Screening appointment: The resettlement agency/caseworker emails HCHD to request an appointment, and provides Biodata form/overseas exam records to initiate the clients' medical record. The goal is to complete screenings within 45 days of arrival to the US, especially for school-aged children.
Caseworker & clients should bring the following to both health screening appointments:
Clients' home address and phone number
I94 papers
Passport
Medicaid card (when available)
Vaccine record
Medical records (if available)
Medications taken regularly
Preferred pharmacy name (for faxing prescriptions)
Health Screenings are routinely completed over two appointments (up to 3 hours each), depending on family group size. HCHD emails an appt confirmation the week before the health screenings. The caseworker should reply to confirm BEFORE the appointment AND include the address, phone number, and county/city of residence (Henrico vs. Richmond). Please make sure the client does not have other commitments during their clinic appointment time frame.
The first appointment will be a Monday afternoon and will include:
Intake visit with nurse-vital signs, height, weight, TB screening & health history, vision & hearing tests, RHS-15 Mental Health Screening for 14 yo and up, TST for children under 2yo & stool collection kits for young children
Labwork -blood draw and urine test (fasting for labs is NOT necessary);
Encourage clients to eat and drink prior to clinic due to length of visit
The second appointment will be a Thursday afternoon and will include:
Physical examination by MD/NP with a review of lab results
Immunizations by nurse, read any children's TST's, process stool kits for O&P testing
Clients will be given a blue folder including: a copy of immunization record; immunization information sheets; labwork results; next appointment reminders; school health entrance forms for children >1 year old
After the clinic appointment:
Nurse faxes any prescriptions to the preferred pharmacy (may include parasite prevention medication)
Pharmacy will call client/caseworker to get Medicaid information and notify when prescriptions are ready
Caseworker may need to assist the client with getting medications
Medical referrals are emailed (password protected) to the caseworker/health liaison after all lab results are received and HCHD services follow up appointments are made (typically within a week). Health department follow up appts for TB, WIC, counseling, and lead programs must be done at the health department in the clients' jurisdiction.
Nurse calls the caseworker with any urgent needs, and if the client's tspot result is positive. *Positive tspots require a free chest x-ray be done asap (same or next day) to rule out active TB (contagious) vs. latent TB (not contagious)
All newcomer clients should be referred to local medical providers for primary care and dental care, to ensure they have a medical home. HCHD offers support medical services and education. However, HCHD is not a primary care provider. HCHD can transfer health screening records to providers upon request, to promote continuity of care.    
LOCATION
West Henrico Health Department
8600 Dixon Powers Drive
Henrico, VA 23228
Main Clinic Phone: (804) 501-4651
Telephone interpretation services are available
خدمات تفسیر تلفنی موجود است
Huduma za tafsiri ya simu zinapatikana
تتوفر خدمات الترجمة الهاتفية
SUPPORT CONTACT
Lorena Oskins
(804) 501-4704
Lorena.Oskins @vdh.virginia.gov
Contact for green card paperwork assistance at 1 year after US arrival (offered for refugee status only), and to assist the coordinator with Health Screening appointments.
FindHello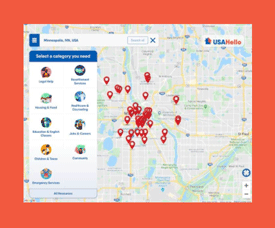 FindHello has help and services for immigrants, refugees, asylum seekers and undocumented people in the USA. Search for job advice, lawyers, healthcare, English classes and other services near you.
HEALTH-RELATED COMMUNITY PARTNERS