About the Youth Violence Prevention Program
The Youth Violence Prevention Program at RCHD aims to develop a community-wide approach to preventing youth violence using the public health model of prevention and the collective impact approach to community organization. Our vision for this work is based upon the need for sustainable prevention in order to decrease the number of youth experiencing violence, and in turn, allowing them to thrive.
About Youth Violence
Youth violence represents a serious public health problem for all communities; Richmond included. It challenges health professionals and educators, law enforcement and courts, community organizations, and government agencies. Nationally, homicide is the second leading cause of death among youth 15-24 years of age. In Richmond, however, this problem is more pronounced, where it is the leading cause of death among our youth.
In order to combat the critical need for youth violence prevention in Richmond, the Richmond City Health District (RCHD) was awarded a CDC-funded Youth Violence Prevention Training and Technical Assistance Grant from the American Institute for Research (AIR). RCHD will receive training and technical assistance over the next four years to develop a community-wide approach to prevent youth violence.
CONTACT
For more information on the Youth Violence Prevention Program, contact: Jackie Lawrence at jackie.lawrence@vdh.virginia.gov or (804) 482-8016.
Youth Violence Prevention Program
Richmond City Health District
400 East Cary Street, 4th Floor
Richmond, VA 23219
What Are We Doing
The youth violence grant requires the Health District to commit to have a range of community stakeholders (e.g., representing local government, juvenile justice, police department, school system, and other social service system partners) participate in a youth violence prevention project led by RCHD with the following end goals:
Create a youth violence prevention community coalition and develop a comprehensive plan to address violence among youth aged 10 to 24.
Participate in youth violence prevention training and technical assistance activities by telephone and other virtual methods (e.g., webinars and virtual meetings).
Engage in evaluation activities, including completion of an annual survey and participation in an annual interview with AIR evaluation team members.
The grant's training and technical assistance is likely to focus on the following topics:
Bringing together and engaging stakeholders from multiple sectors to form, manage, and sustain an effective youth violence prevention coalition
Developing and implementing a comprehensive YV prevention strategic plan
Selecting and implementing evidence-based prevention program strategies that meet community needs
Integrating violence prevention into ongoing public health practices
Designing and carrying out systems change efforts (i.e., changing the underlying structures and supporting mechanisms of a system by transforming policies, routines, resources, and relationships)
Addressing disparities and disproportionalities
Identifying, reviewing, and utilizing community-level data during planning, evaluation, and communication
Conducting needs assessments
Identifying or reallocating existing resources for the most significant impact
Sustaining YV prevention efforts
There is a need to develop this strategic plan and develop the resources through partnership development in the City. RCHD has partnered with the Juvenile Justice Collaborative (JJC)—specifically its prevention subgroup, the Inspire Workgroup—to establish a comprehensive plan to address this issue.
Juvenile Justice Collaborative
The Juvenile Justice Collaborative is convened by the 13th District Court Service Unit of the Virginia Department of Juvenile Justice. The purpose of this collaborative is to facilitate the juvenile justice process and systems improvements among stakeholder agencies in the City of Richmond.
Inspire Workgroup
The Inspire Workgroup is a subgroup of the JJC charged with championing the prevention of youth violence in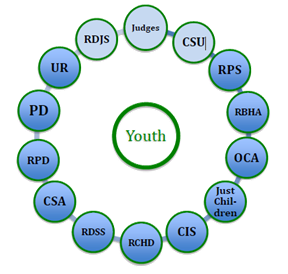 Richmond.
Mission: Empowering communities to be healthy, safe, and resilient by reducing youth violence and adverse community experiences.
Vision: To create a city where youth are safe, nurtured, and empowered for success.
Charges: The JJC has also tasked the workgroup with specific charges and deliverables, including:
Identify youth violence/delinquency prevention programs accessible to Richmond youth and families.
Utilize data to determine policy or programmatic decisions that are   effective, efficient, and timely
Use of data to provide a clear focus and a way to present race equity and inclusion (REI) in a non-threatening and non-judgmental way.
Conduct grant/resource vetting and recommend approval of project proposals that are aligned with our local system of care and collective impact goals.
Chart new dollars and monitor and evaluate projects vetted by the workgroup to determine if we are improving opportunities for youth.
Deliverables:
User-friendly dissemination method for youth violence/delinquency prevention programs i.e. website or smartphone app.
Action plan for verifying prevention/intervention programs adherence to evidence-based practices.
Maintain a list of proposed initiatives requiring start-up funds and the team's vetting process.
Quarterly submission/review of funding sources and awards. Status update of current project performance.
MEET OUR PARTNERS
Inspire is a multi-stakeholder coalition of committed organizations and citizens of Richmond. We unite government agencies, nonprofit organizations, faith organizations, and private citizens toward a common goal of reducing violence in our city and supporting youth and families. Some of our members include:
ChildSavers

Communities in Schools of Richmond

Department of Juvenile Justice, 13th District Court Service Unit

Greater Richmond SCAN

Peter Paul Development Center/Richmond Promise Neighborhoods

Richmond Behavioral Health Authority

Richmond DCAO of Human Services

Richmond Department of Justice Services

Richmond Department of Parks, Recreation, and Community Facilities

Richmond Department of Social Services

Richmond Police Department

Richmond Public Schools

Richmond Redevelopment and Housing Authority

VCU Clark-Hill Center for Positive Youth Development

VCU Trauma Center & Injury and Violence Prevention Program

Virginia Center for Inclusive Communities

YWCA of Richmond
LOCAL RESOURCES
VCU Medical Center Injury & Violence Prevention Program – Bridging the Gap:
Violence prevention and intervention programs are a powerful way to stop the revolving door of violent injury in our hospitals. Engaging patients in the hospital, during their recovery, is a golden opportunity to change their lives and reduce retaliation and recidivism. Bridging the Gap provides services to Richmond area youth, ages 10-24, who have been admitted to VCU Medical Center for intentional injuries such as gunshot wounds, stab wounds, and assaults.
Legal Aid Justice Center – JustChildren Program:
The JustChildren Program is Virginia's largest children's law program. They rely on a range of strategies to make sure the Commonwealth's most vulnerable young people receive the services and support they need to lead successful lives in their communities.
Peter Paul Development Center (East End):
Peter Paul Development Center (PPDC) is an outreach and community center serving Church Hill and neighboring communities in Richmond's East End. Founded in 1979, it is the oldest community-based agency continually serving Church Hill children and families. PPDC gives children a safe, consistent, structured, and loving environment in which to thrive, where staff and volunteers establish long-term relationships of trust and support for the children and their families.
VCU Clark-Hill Institute for Positive Youth Development:
The Institute's mission is to develop and evaluate evidence-based practices to empower youth, schools, families, and other stakeholders to promote the healthy, safe, and positive development of youth, with a special emphasis on the middle school years.
Communities In Schools of Richmond:
Communities In Schools of Richmond surrounds students with a community of support, empowering them to stay in school and achieve in life.
Virginia Center for Inclusive Communities:
The Virginia Center for Inclusive Communities works with schools, businesses, and communities to achieve success by addressing prejudices, in all forms, in order to improve academic achievement, increase workplace productivity, and enhance local trust.
Richmond Family & Fatherhood Initiative:
It is a city-wide initiative involving members of the Richmond community in efforts to reduce the number of births to single parents and increase the percent of Richmond's children raised in two-parent homes. The Initiative focuses on equipping and empowering men and women with essential tools and training for positive lifestyle choices leading to sexual responsibility, self-reliance, and family responsibility.
YWCA of Richmond:
YWCA of Richmond is a 128-year-strong nonprofit organization serving families in Central Virginia. They are committed to empowering women, children, and their families to live their best lives. They strengthen our community on both individual and family levels through our nationally accredited early childhood education programming, violence prevention education, and emergency and ongoing services for survivors of sexual assault, domestic violence and intimate partner violence.
ChildSavers:
ChildSavers has a fundamental commitment to the mental well-being of children and the positive bond between adult and child. They support this mission with clinical treatment and education and training services that offer reassurance, healing, and the skills necessary to achieve normal life development. ChildSavers offers a variety of services for parents and professionals who work with children who have experienced trauma.
NATIONAL RESOURCES
Preventing Youth Violence: Opportunities for Action:
Everyone has an important role in stopping youth violence before it starts. CDC's Preventing Youth Violence: Opportunities for Action and its companion guide provide action steps to help everyone be a part of the solution.
The Public Health Approach to Violence Prevention:
The public health perspective asks the foundational questions: Where does the problem begin? How could we prevent it from occurring in the first place? To answer these questions, public health uses a systematic, scientific approach for understanding and preventing violence.
Connecting the Dots: An Overview of the Links Among Multiple Forms of Violence:
The CDC and Prevention Institute developed "Connecting the Dots" to clarify the relationships among different forms of violence. This publication builds a case for practitioners to coordinate their efforts, increase their impact, and work toward preventing multiple forms of violence.
Blueprints for Healthy Youth Development:
This registry of family, school, and community-based programs is designed to promote the health and well-being of children and teens. Blueprints programs target all levels of need- from broad prevention programs that promote positive behaviors, to highly targeted programs for children at risk and troubled teens that get them back on track.
Communities that Care:
Communities that Care (CTC) employs a proven, community–change process for reducing youth violence, alcohol & tobacco use, and delinquency – through tested and effective programs and policies.
Virginia Department of Health - Youth Violence and Bullying:
Youth violence and bullying are major public health issues for individuals, families, and communities. Both are complex problems that, over time, impose serious effects on targets and bystanders and serious consequences on aggressors. Solutions require widespread, sustained efforts in families, schools, and communities.
CDC Injury Prevention & Control - Division of Violence Prevention:
Youth violence refers to harmful behaviors that can start early and continue into young adulthood. The young person can be a victim, an offender, or a witness to the violence. Youth violence includes various behaviors. Some violent acts—such as bullying, slapping, or hitting—can cause more emotional harm than physical harm. Others, such as robbery and assault (with or without weapons) can lead to serious injury or even death.