Seven out of ten tobacco users want to quit. Are you one of them?
Did you know that health benefits of quitting tobacco start 20 minutes after you quit and keep getting better the longer you stay quit? Don't take our word for it. Hear it from these Virginians who are proud to be (tobacco) quitters.
Please, enjoy this video. When you're finished, feel free to share it with your friends, colleges, community partners and organizations. It is available for download here:
If you are thinking about quitting smoking, vaping or using tobacco products,  Call 1-800-QUIT NOW
(1-800-784-8669)  or visit Quit Now Virginia to connect with a Quit Coach.
Our Quit Coaches are available 24 hours a day/7 days a week. They are confidential, nonjudemental and available to help you design a personalized plan for whenever you are ready. Tobacco is a strong addiction, but YOU are stronger.
 Desea dejar el Tabaco?
Llame a 1-855-DEJELO YA
(1-855-335-3569)
If you would like more information or assistance in making your worksite, organization, park or multi-unit housing development tobacco free contact: Sarah Birckhead at sarah.birckhead@vdh.virginia.gov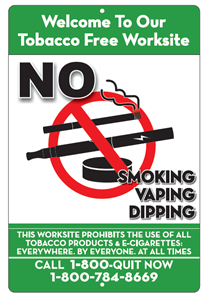 Being tobacco-free will help reduce your risk of developing heart disease, cancer and stroke.
If you are ready to quit smoking or using tobacco,
Call 1-800-QUIT NOW
(1-800-784-8669)
or visit Quit Now Virginia online for free assistance and resources.
Desea dejar el Tabaco?
Llame a 1-855-DEJELO YA
(1-855-335-3569)