The Financial Assistance Review Committee, better known as FARC, is the committee which reviews applications for the Rescue Squad Assistance Fund (RSAF) grants.  FARC was created in 1978 by the EMS Advisory Council to carry out the responsibility of reviewing RSAF grant applications and recommend funding.  In 1996, FARC was established by §32.1-111.12:01 in the Code of Virginia for the purposes of administering the Virginia RSAF grant funds.  The purpose of FARC is to review the RSAF grant applications from eligible licensed Emergency Medical Services (EMS) agencies and other eligible not for profit and then make their recommendations for grant awards to the Commissioner of Health.
The FARC is composed of six members, including a chairman, who each represent an EMS region throughout Virginia.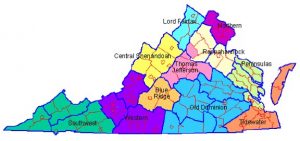 Each FARC member is appointed by the EMS Advisory Board and serves a three-year term.  No member may serve more than two successive terms.  The chairman is elected from the membership of the FARC for a term of one year and is eligible for re-election.  Membership on FARC rotates on a cycle so geographic representation is achieved from all EMS regions.
The FARC holds quarterly meetings which are typically scheduled the day before each State EMS Advisory Board meeting which takes place in February, May, August and November.  The FARC meets twice a year for the RSAF awards meeting which are scheduled during the first week of June and December. To review the FARC meeting minutes, visit: www.vdh.virginia.gov/emergency-medical-services/agency-leadership-resources/financial-assistance-review-committee/
FARC reports bi-annually after each funding cycle to the EMS Advisory Board and the Commissioner of Health.  The FARC reports on the number of grant applications received, the total costs of grant applications funded, the number of grant applications denied funding and the nature of the denied requests and the reason for denying funding.
For more information regarding FARC or the RSAF grant program, please contact Michael D. Berg, Grants Program Manager at 804-888-9106 or michael.berg@vdh.virginia.gov or Linwood P. Pulling, Grants Specialist at 804-888-9105 or linwood.pulling@vdh.virginia.gov.