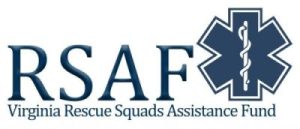 The financial assistance for Emergency Medical Services Grants Program, known as the Rescue Squads Assistance Fund (RSAF) is a grant program for nonprofit licensed EMS agency or other Virginia emergency medical service organization operating on a nonprofit basis exclusively for the benefit of the general public pursuant to § 32.1-111.12 of the Code of Virginia.
Items eligible for funding include EMS equipment and vehicles, computers, EMS management programs, courses/classes and projects benefiting the recruitment and retention of EMS members.
---
Fall 2023 RSAF Grant Cycle –
The application period for the Fall 2023 RSAF competitive matching grant cycle will open on Wednesday August 01, 2023, and will close on Friday September 15, 2023, at 5 p.m. Eastern Standard Time (EST).
OEMS will accept applications from nonprofit licensed EMS agencies and other Virginia EMS organizations pursuant to § 32.1-111.12 via the EMS Grant Information Funding Tool (E-GIFT).
You can access the Fall 2023 RSAF Pre-Award Technical Assistance Webinar slides and recordings under the Webinars heading below.
Application Deadline: September 15, 2023 at 5 p.m. EST  Closed.
For more information, please read the Fall 2023 RSAF Grant Cycle Announcement 
---
Grant Information:
Grant Awards:
Other award lists available upon request
Webinars:
Other webinar slides and recordings available upon request
---
Contact Us:
Michael D. Berg, MPA, NRP
EMS Systems Funding
Michael.Berg@vdh.virginia.gov
Phone: (804) 888-9106


Fax: (804) 371-3108

Linwood P. Pulling
Grants Specialist
Linwood.Pulling@vdh.virginia.gov
Phone: (804) 888-9105
Fax: (804) 371-3108